hi everyone!
wow i haven't posted anything in.... 3 years?? i guess i have to apologize for my long, long absence. no worries, i am still alive and breathing, but i am just too busy with my work and all those cliche reasons. you know already so i won't say anything further about this haha.
at first, by the time i became very busy with my job, i just wanted to have this blog as a place for me to store all important memories, which means that i won't post here regularly, but i would still come back here everytime there is any event that i want to keep remembering since i still read posts from this blog from time to time.
including now.
i guess some of you who had been following me since some time ago know already about how SHINee is my ultimate kpop group. and i have been stanning this group for 7 years.
let me tell you how it started.
2009-2010 was actually the time when i was really into rock music like paramore's and all that, so i did not expect myself to even listen to kpop, at all. surprisingly, SHINee was not the one who brought me into kpop. it was actually super junior.
it all started when super junior came to malaysia for a concert. at that time, super junior was the hit with sorry sorry, but to be very honest, i did not even know that sorry sorry was actually THEIR song. stupid me even thought that sorry sorry was a japanese song lmao. so, it was all started from my curiosity on super junior, that i went through every super junior video in SMent youtube channel. no, it was not even SMTOWN back then. i was such an ancient kpop fan i know :))
and i am pretty sure you all know how youtube works right? everytime you watch a video, there would be suggestions on the right side of the screen, aaaaaand yes that was the golden moment when i found SHINee.
through a song named 'ring ding dong'.
i mean who won't be curious when you know zero about kpop, you listen to rock music like paramore and my chemical romance and simple plan and all that, with their punk rock emo songs some more, then you come across a song titled RING DING DONG????
of course i clicked it right away.
and damn what a catchy song they have there. that song got me hooked there and then.
to be very very honest, i was so interested in taemin in that video i can even safely say that was attraction at the first sight lmao. in my defense, he didn't look babyish at all in ring ding dong, unlike him in other SHINee mvs at that time. that was before i realized that he was actually born in 1993 and i thought that wooop nope too much of a baby for me, so i directed my attraction towards minho instead XD.
however, even after listening to highly addictive ring ding dong, i didn't become a shawol yet. for fellow shawols, the history of me becoming a shawol might be familiar for them as some of them might went through similar path with mine. sooo after watching ring ding dong, i started digging around the very same channel to watch other SHINee videos, such as lucifer, replay and all that. after that, i tweeted "SHINee's songs are kind of awesome i might become a fan" something along the line, and one of my mutuals suggested me to watch Hello Baby.
and the rest is history.
seriously, now who wouldn't fall for them when five boys who hadn't even reached 20 yet at that time, had to take care of a 4-year old toddler, with no experience in taking care of any baby ever since all of them are either the only child or the youngest child, and they really did their best to take care of the kid with TLC and beyond?? the premise itself was so interesting. honestly, i finally fell for minho because of how he took care of the kid throughout the show, like, dude, i can really see you being an awesome father although you were only 18 years old at that time.
sooo starting from there, i finally became a shawol. then somehow i managed to watch every variety show, every interview, listen to every album they released, everything about them. it wasn't hard to fall for them because all five of them are super talented (i challenge you to sing their song 'everybody' live, complete with the full choreography. seriously, only SHINee can do that flawlessly) to the point that everyone says that "SHINee eats their own CDs" because of how amazing they sound when they sing live, and they are super adorable to boot. my admiration towards these five boys continues until today, and i can safely say that they've been in every step that i took and i take. everytime i feel stressed, i just need to play any video where they become their adorkable selves, and everything is right again. everytime i feel demotivated, i just need to watch or read any interview where they always encourage their fans to do their best, to know that there would always be sunshine after the storm, and i become motivated again. SHINee's songs have always been my first choice as well everytime i feel like i specifically want to listen to this kind of song due to my different moods, and SHINee always has all kind of songs that suit my ever changing moods, every single time.
without even myself realizing, shinee has become a part of my life
which explains why the passing of jonghyun really affected me, a lot.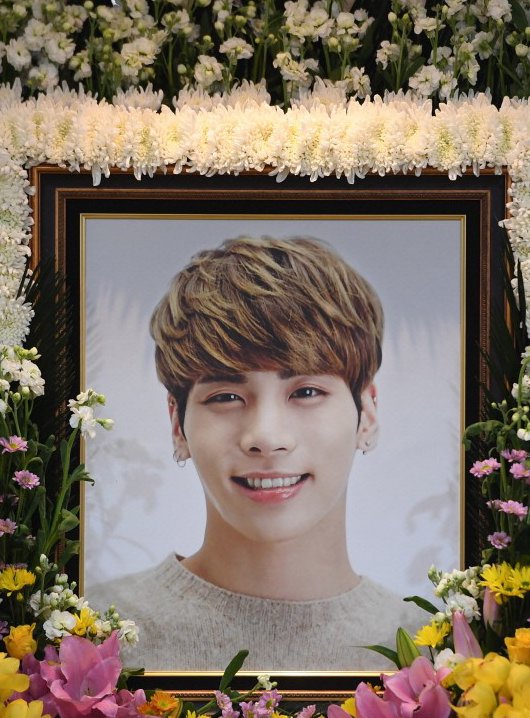 18 december 2017.
the evening when jonghyun was all over the news, informing that he was found dead.... it wasn't me who directly knew it from the news. it was my sister who gave me the link to it.
i didn't know how, but all of sudden i just... fell on the floor.
my head was still trying to grasp the idea of "jonghyun????
SHINee's jonghyun??? OUR JJONG???
"
(to be very honest, my brain still cannot fully grasp that idea even until this very minute, this very second).
the thought that came after was "this is just a joke, right?" because i still cannot believe that something like this would happen to someone who, somehow, has been part of my life for the past seven years.
and it broke me even more knowing that it was him himself who decided to end his life.
to those who think that "how come nobody knows about his depression?" trust me, ALL of us know. jonghyun was very, very open about his depression. he suffered from it to the limit that he had insomnia back then, and that was also one of the reasons why he became the DJ of blue night radio show, since it was held at midnight. after he quitted the show, we thought he was winning his battles against the demons inside of him since he no longer suffered from insomnia, and he looked way healthier.
what we didn't know was he actually wasn't.
for me, starting from that monday night until the whole day of tuesday, it was very, very emotionally exhausting. i really couldn't stop crying. i cried myself to sleep. the worst part was that i couldn't even take leave because, let's get real, which boss is going to accept any leave day due to "devastation over the passing of an idol"? impossible right? and i had to be an invigilator for an exam somemore, so i really had to go to work on that tuesday.
and damn it was so, so hard. i couldn't work at all, and i had to run to the washroom to cry since the waterworks just literally came without warning. i even spent more time in the washroom than in my own cubicle on that day.
some of you might have this in mind: "why were you THAT sad? are you that obsessed with jonghyun?"
not to defend myself, but i am SO not obsessed with any idol, not even minho who is known as my very ultimate bias.
then why was i, or am i (since i AM still), so sad?
i have two reasons for that.
firstly, because i lost someone who has been part of my life for the past 7 years.
like what i mentioned before, SHINee was literally in every step that i took and i take. as i am such a homebody, i spent my free time by watching their shows, concerts, even every drama that the members starred in. i can't live without music, and i happen to love every song that they sang, so it is just natural to have their songs in every playlist that i have, for any kind of mood. and also, being a fan for 7 years, whether you want it or not, you became one who knows all of their stories. same goes to me. i became to know the stories of their families, their habits, their quirks, all thanks to every variety show they were in. as i followed every story, it became MY habit too to know every single stuff that was exposed to the public. honestly, what triggered my tears the most was because i am (still) not ready to not have jonghyun as part of those aforementioned daily stuff anymore. however, it didn't make me put them on a high pedestal, not at all. i still see them as human beings.
and that brings me to the second reason, which is because i emphatize with the people that he left behind.
like what i said before, i have seen every single variety show that shinee was in, and i can see how close they are. their closeness might be scripted during their early days, but you totally can see that as they grew together, they became more comfortable with each other, to the point that they have become brothers. like what onew said, they even see each other more than they see their own family due to the nature of their job, so it became natural for them to be a family along the way.
and as someone who is able to see how close they are, the thought that passed my head very often after jonghyun's passing was "how about his mom? his sister? the remaining SHINee members? if we shawols are already hurt this much, then how about them???" and that was what broke me even further.
back to me, i was quite okay on wednesday. i went to work and worked like usual, i still went to the washroom everytime i wanted to cry, but at least it wasn't as often as it was on tuesday.
then thursday came.
the day of jonghyun's funeral.
for two days before the funeral, i was only wondering how his family, including his SHINee members were doing. after seeing the video and photos of the funeral, my questions were answered. and the answer really, really broke my heart into even smaller pieces, if that's even possible.
being a shawol for seven years, i have never seen them this raw, this broken before.
key was always the emotional one, as he never fails to cry everytime he feels touched in any of their concerts, but this is the kind of emotion, the kind of sadness that i haven't ever seen before. he's always been open with his feelings, so we can clearly see how broken he was.
minho has always been the strong one. he is always the one that any of his brothers runs to everytime they need a hug or any consolation, and he would always be the one with the warm hugs, comforting words and encouraging smile. seeing him crying and not being able to hold back his tears were the reasons behind my tears too on that day.
taemin, our forever baby, our forever maknae, was the one that worried me. he might look stone faced, but somehow i could see the whirlwind of emotions behind that stone face. he was sad, he was angry, he was upset, he was in disbelief, he was devastated, and other emotions that i couldn't decipher. and what worries me the most is that it is very clear that he hadn't let them all out. he might still need time to come to terms with his mixed feelings, but i hope he won't bottle them up inside.
and the one that worried me the most: lee jinki, onew, the leader. it has become a habit for him as the leader to be the one that his brothers come to everytime they have any issue, and he even was willing to stay back to let any of his brothers shine. every member of shinee loves the family so much, and he loves his brothers even more. after seeing his face and his expression, it was very clear that he blamed himself. clearly, it wasn't any of the members' fault, it wasn't anyone's fault since jonghyun decided to end his life due to his disappointment with himself, but as the oldest brother, he might blame himself maybe because he couldn't stop what jonghyun did before it was too late, or maybe because of other unknown reasons, but we can totally see that he devastatingly blamed himself, a lot. and even in that devastated state, he was still able to console and comfort key who was brokenly crying on his shoulder. if onew was the one who comforted his brothers, then who comforted him?
and it was my breaking point.
so i hope now you understand why i was devastated too, why i cried so much for the past one week.
then what about now?
it has become better, i think. for the first three days, i didn't even dare to listen to any music, not even any music from other artists than SHINee because i was afraid that it would trigger my tears. at least now i can even listen to jonghyun's solo songs again.
however, the tears still come in the form of bursts of emotion. i was fine, laughing even, then all of sudden i would cry because i came to realization that i won't be able to see SHINee as five anymore. i am now able to see SHINee's pictures as five and smile, but it gives me a bittersweet feeling and a small hollowness behind.
it would never be the same, definitely. it would take time for me and other shawols to be fully healed, to come to terms and acceptance. it needs process, and it won't be a fast one. losing is something that one would experience, but it just came to us too fast and we were not ready for it.
time would heal. whether it is going to be a short or a long process, i am going to cherish every second of it as part of growing up.
i will miss him so much, for sure, but that way at least i know that i won't forget him that easily.
rest easy, kim jonghyun. i hope you are able to find your happiness now, wherever you are.