i am very damn much addicted to internet. i always start my mornings by drinking my cereal drink for breakfast accompanied with a little routine of facebook-checking. i download some favorite videoclips from youtube or mp3s from 4shared during my lunch breaks. after my classes have been finished, i have my chitchats through YM accompanying every spoon of dinner going through my mouth. since i'm living far from my family and friends, i rely on internet very much to communicate with them because it is free and pretty much affordable for my fams n friends. i write everything i feel and think in this blog. i always check what's going on in the world nowadays through internet, since i am too lazy to buy and read newspapers. i dont have any TV in my college, therefore internet, again, is one alternative of entertainment i can get, besides my radio and mp3 player.
there are four websites i always open everyday : facebook, friendster, yahoomail, and google, but not all of them are my favourites. and now i wanna tell you ten of them. i'm gonna start from number ten as the least favourite.
ok, here you go.
10.
21cineplex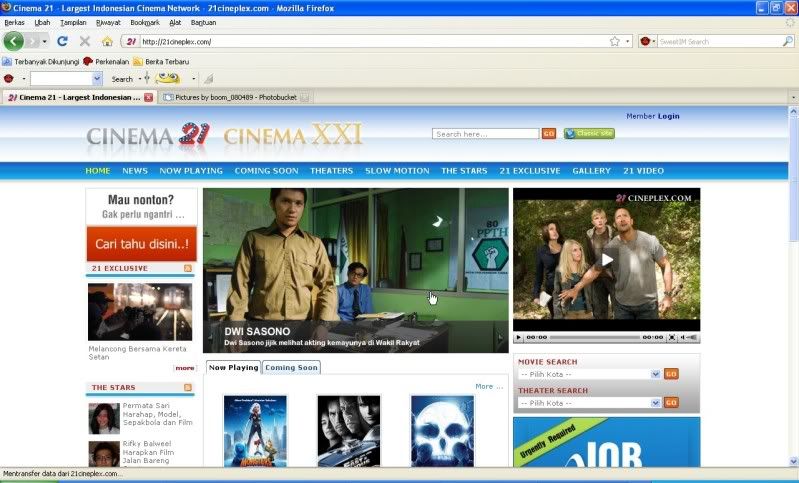 ok, i know that i dont live in indonesia for most of the years, but i always check this website regularly to know the newest indonesian movies. i must say, although not all of them are good enough to watch, indonesian movies have become very variative nowadays. some of them even got very original ideas which are getting closer to our daily lives, and i really love those kinda ideas. the only way i can check on them is by surfing this website, and for that purpose, this website never dissappoints me.
9.
perezhilton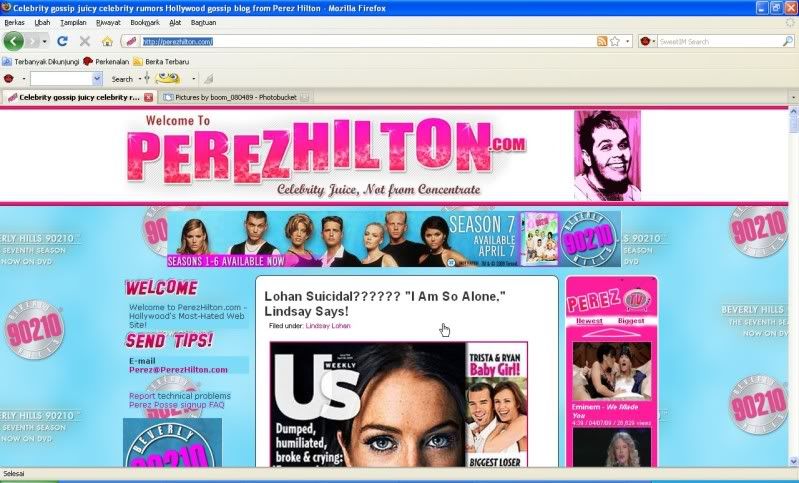 girls love gossip. it runs in every girl's blood. it depends on the girl whether they want to activate or deactivate it, but i think most of the girls in this world prefer to activate it ;)
one source of international gossips which is already very famous everywhere, which its gay owner befriends a lot of celebrities, is none other than perezhilton.com. he's very famous for his sarcastic but funny comments, and i like it. sometimes reading this website is also another kind of refreshment for me, besides its function as a gossip-update for my gossip-instinct :P
8.
okezone
some people prefer detikcom, but i prefer okezone since detikcom is getting more and more crowded nowadays. this website can be pretty reliable for news update in any segments, such as politics, economy, celebrity, lifestyle, sports, et cetera. this is one website which keeps my eyes wide open to see what happened in the world thoroughly, especially any event happening in my beloved country, indonesia.
7.
CoutureCandy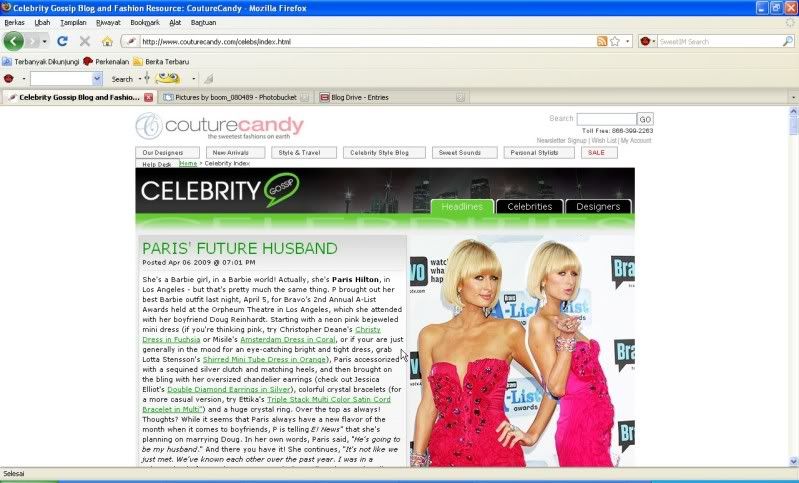 wanna know what international celebrities wear on their daily lives, parties, or other occassions? click on this website, and you'll get the gossip and also 'how-to-look-like-this-celeb-without-spending-much-much-more-dollars' tips, including their online shops as the bonus. hmm, nyum.
6.
radityadika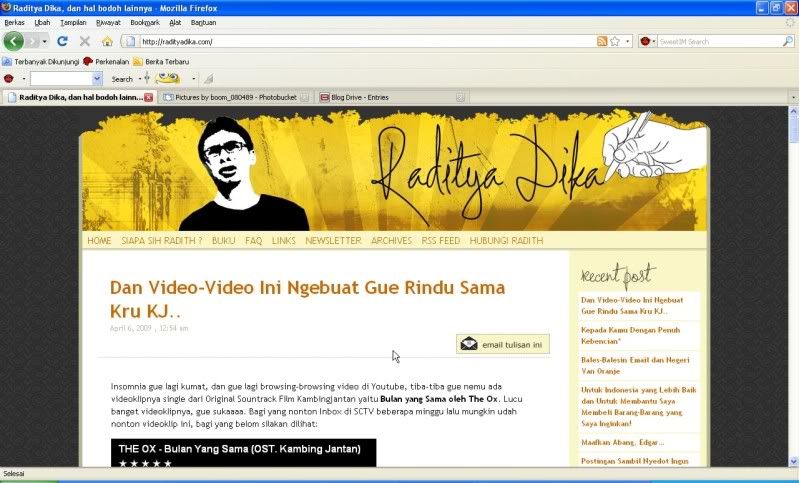 his books really make me laugh, and so does his blog. although there are some writers trying to copycat his funny style of writing, nobody can write EXACTLY like him because his style is just... specific. nobody can do the same thing as he does. reading his blog is just like reading more updated version of kambingjantan added with some serious contents, even romantic poems that i never imagine would be written by such a comical and funny person like raditya dika. interesting!
5.
ngupingjakarta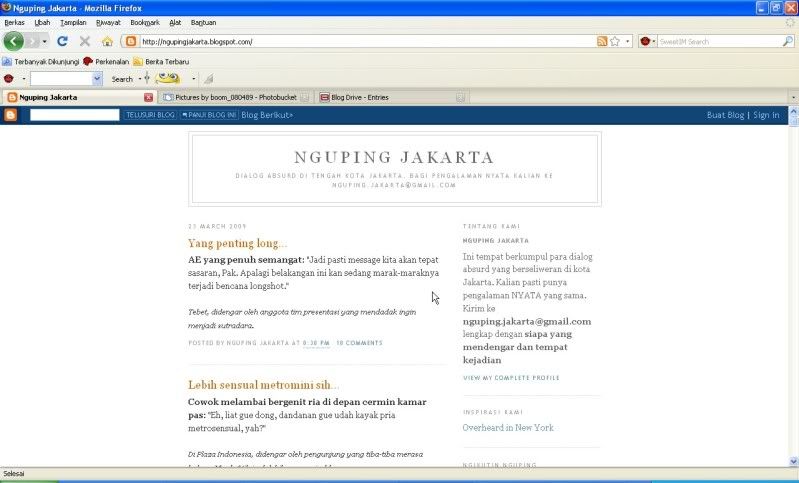 next time you are on your way to your destination in the bus, or when you are queuing for paying your snacks in the supermarket, please stop listening to your ipod, unplug your earphones and try to listen to the dialogues around you. you may find some funny dialogues that you'll never expect will come out from someone just like the ones in this website. when you need some splash of laugh during your hectic hours, this website may be one of your references. just read and you'll see the effect on you immediately :)
4.
adianette's deviantart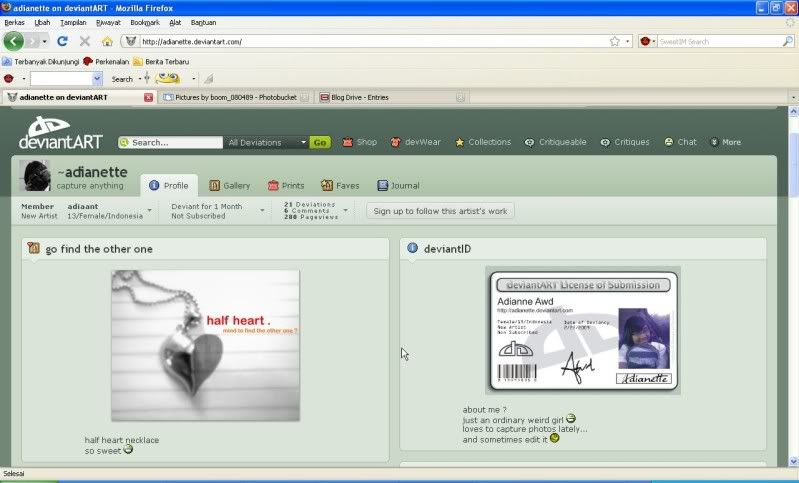 i know she's still 13 years old and a newbie in the world of design. some of her photographs might be too plain or imperfect. but she's in her process of learning the world she loves, and i do think that she already shows a good improvement in it. that is what keeping me coming back to this website for more. trust me, she is such a talented girl and yeah, she's my lovely sister :)
3.
youtube
if someday i hear from someone that he or she does not know what youtube is, but he/she claims that she /he has like five accounts of emails and one thousand friends in his/her facebook friend list, surely, i'll just kick his/her ass. how the heck in this world you cant know what youtube is when you claim that you are such a pro in the internet world? if you are exactly like what i described, shame on you, because then you dont know how to see your favorite videoclips, trailers, cartoons, funny events, even some references for your scientific presentations in just one click. dont just deal with those one thousand people in your friendlist then, hahaha.
2.
4shared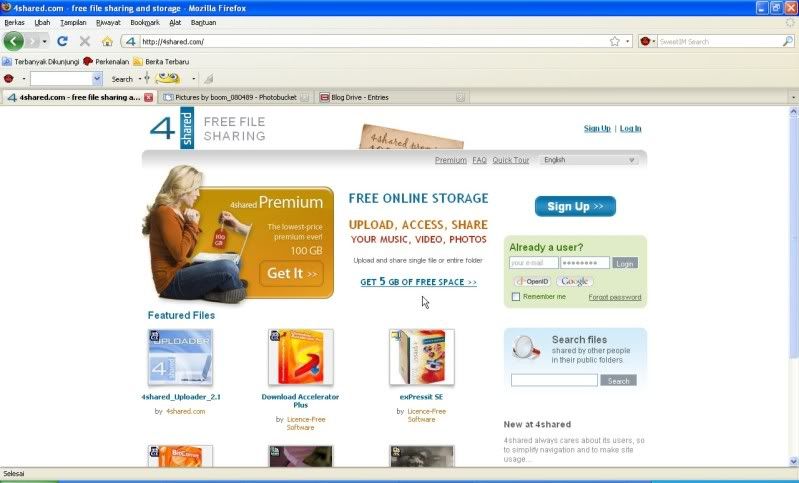 i'm very very very VERY much addicted to mp3-downloading. i have to download at least one mp3 in one week, although i dont really like that music, which rarely happens to me because my preference of music keeps being updated therefore i ALWAYS know what to download every week, even every two days. dont ask me how this happens, because i also have no idea about that. hahaha. this website works just like what multiply did in the old days by providing mp3s featured in the accounts of the members which you can download freely. you can find ANY kind of mp3s, wherever part of the world the artist comes from. just type the title of mp3 that you want in the 'search' section, and voila! just choose which one you want. this is the reason why i chose it as the second website i mostly love, hahaha.
..... and here comes the winner......
1.
FACEBOOK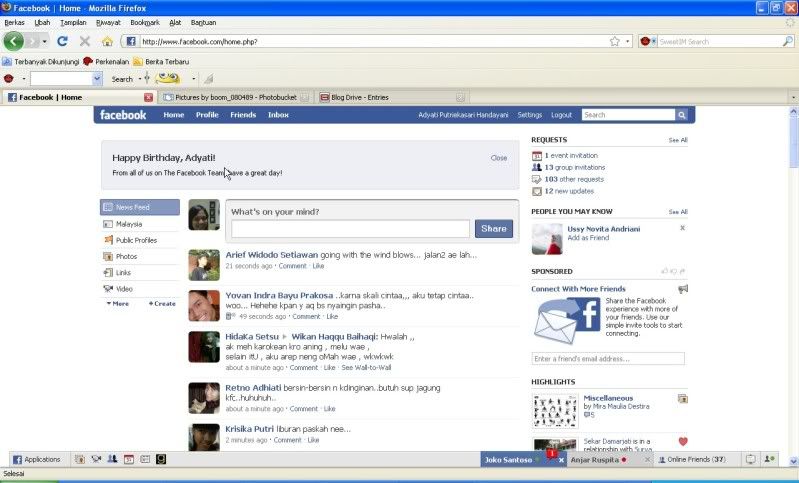 yea, i'm officially addicted to facebook. i wont deny it because i cant say that i'm not addicted when i realize that i check my facebook account like more than five times a day and i spend most of my break time on playing with my nyunyuu in pet society, having a small talk in the chatroom, doing the quizzes, tagging everyone in the pictures and notes, or commenting on everyone's status. i used to be so addicted to friendster, but this website successfully pulled me away from that website. facebook provides more interesting applications which are however still irreplaceable by friendster which is now trying to copycat facebook by providing the same applications just like what facebook has. for those who don't, just have your new account right now, and don't forget to add me at boom_080489@yahoo.com. ugh, i should provide that badge whatsoever here. i'm going to do that later.
yessss sure you can browse on these websites, although i know you are already familiar with some of them. have a nice day, everyone!
ps : my final exams will be started on april 14. please please please wish me a big good luck, hehehe. thanks! ^^